Guidance Definition

Guidance and counseling is an integral part of each school's total educational program. It is developmental and includes sequential activities organized and implemented by certified school counselors with the support of teachers, administrators, students and parents. The Guidance Program includes the guidance curriculum, individual planning, responsive services and system support. Major components include:

promoting knowledge of self and others

career planning and exploration

educational and vocational development

Guidance Philosophy/Rationale

The Rockwood School District's Guidance and Counseling Program is an integral part of the overall educational process. The comprehensive program is developmental, facilitative, and supportive in nature, as it assists students in acquiring competencies for life experiences and transitions.

Rockwood Guidance Program Goals

The Rockwood School District's Guidance and Counseling Program will:

be based upon needs assessment data obtained every three years.

be made available to 100 percent of our students.

be student centered, developmental, and sequential, K-12.

provide structure, direction, and support for the delivery of student services by guidance counselors.

Mission Statement

All students will be valued and provided results-based instruction in the areas of Career, Academic, and Personal Social Development, through a comprehensive guidance program, as they acquire skills, abilities and attitudes that empower them to be lifelong contributing members of society.

Our guidance and counseling program includes:

CURRICULUM consists of classroom lessons and large group presentations

INDIVIDUAL PLANNING consists of activities that help all students plan, monitor, and manage their own learning as well as their personal and career development.

RESPONSIVE SERVICES consists of activities to meet immediate needs and concerns of students.

SYSTEM SUPPORT consists of management activities that establish, maintain, and enhance the total guidance program.
Contact Information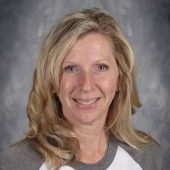 Elizabeth Potteiger
Counselor