Return to Headlines
Search Firm Presents New Superintendent Profile to Board of Education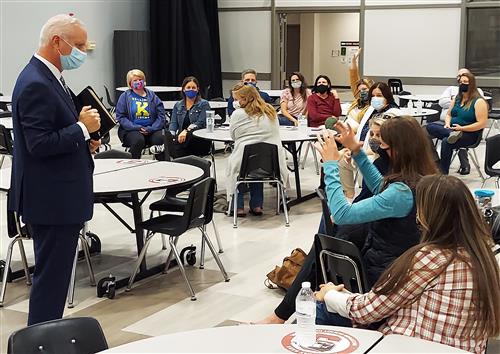 The Rockwood Board of Education heard a New Superintendent Profile Report from Dr. Kevin O'Mara, president of School Exec Connect, at the Nov. 18 meeting. Rockwood hired School Exec Connect, a search firm based in Oak Park, Illinois, to lead the effort to search for the next district leader.
O'Mara based the findings in his report off of in-person focus groups with 95 Rockwood students, staff and community members on Oct. 20-21, as well as the results of an online survey completed by nearly 4,000 Rockwood stakeholders from Oct. 11-29.
"Almost every single respondent showed great pride in this district. You've got a lot to be proud of," O'Mara said. "This is a great place. It's welcoming, high-performing and a place where a great superintendent should be. You're going to get your person."
His findings focused on four main areas: the district's strengths, challenges, what the new superintendent's first priorities should be and the most important qualities, skills and experiences that the new superintendent should have.
Here are some of the key takeaways from each of those four areas.
Strengths
Pride in the strong teaching and administrative staff who have created a close-knit community of learners in the schools.
A well-resourced district with high marks for a wide assortment of extracurricular activities for all students.
Students are very involved with character development, goal-setting and are high achieving.
The buildings and grounds are well-maintained, clean and safe for students and staff.
Challenges
Pressure to raise/maintain test scores, with a continued focus on both academic rigor and the social and emotional health of students, a balance that can be challenging to maintain.
Topics associated with COVID-19 response have created divides that must be closed by the new leader.
A strong desire to diversify the teaching and administrative staff, along with the hope that diversity, equity, and inclusion are priorities of the new superintendent.
Continuing to attract and retain the most qualified and talented individuals in every work group in a time of growing staffing shortages.
Priorities
Balance in providing a rigorous academic program while maintaining the emphasis on the whole child, including social-emotional health and safety.
A careful transition plan, becoming familiar with the district's programs, initiatives, and practices. Significant time should be spent with district employees, parents, students and community leaders, closely listening to their past experiences and hopes for the future.
Be prepared to collaborate, listen and respond to all constituencies, modeling civility and openness. Take time to understand Rockwood before making significant changes.
Continue to focus on hiring and retaining the best teachers and administrators, prioritizing professional development and a growth mindset. Seek to hire a more diverse teaching and leadership staff.
Qualities, Skills and Experiences
Someone who can build, and in some cases rebuild, relationships and trust within the Rockwood community. The person needs to be able to include all stakeholders in moving toward completion of The Way Forward.
A proven leader with specific accomplishments, as well as being hard-working, proactive, transparent, visionary and strategic. Experience in the classroom and leadership at the building level are important.
A deep knowledge of curriculum and instruction and comfort with the use of data to drive decision-making. Focusing on the success of every student and balancing academics and social-emotional health is of critical importance.
Understand how to motivate and manage high-performing teams and use the talents of each individual. Clearly identify and focus on a common vision for the future.
O'Mara said the Board of Education can now use this profile to screen and conduct interviews with candidates, develop questions for candidate interviews, find out more about the thinking of Rockwood's stakeholders and find out about the strengths and challenges of the district.
The application period for the new Rockwood superintendent position closes Dec. 17, with a slate of semifinalists planned to be presented to the Board in January.
To view O'Mara's presentation at the Nov. 18 meeting, click here. To view the Community Engagement Report and Superintendent Profile, click here.